Wild About Creamy Wild Mushroom Soup
Rita1652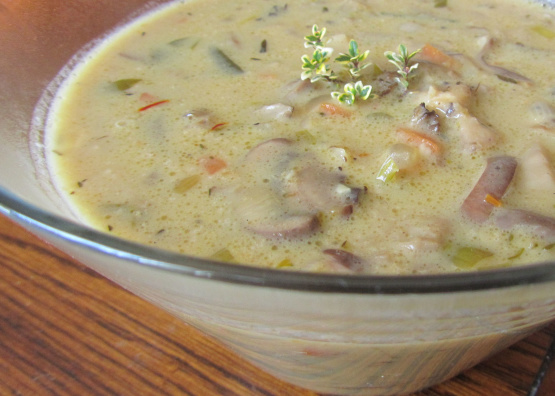 Sinfully Rich! You can use veggie stock instead of the chicken stock. Use your favorite dried and fresh mushrooms.

I was looking for a recipe similar to O'Charley's wild mushroom soup, and decided that this recipe seemed the most likely. Actually, it turned out to be even better. More interesting, more depth of flavor. Ah, this soup is just perfect.
2

tablespoons olive oil

2

tablespoons butter

1

onion, diced

1 -2

garlic clove, crushed

1

carrot, minced (optional)

1 -2

celery, minced (optional)
1⁄16 ounce dried black trumpet mushrooms
1⁄16 ounce dried wood ear mushrooms
3 1⁄2 ounces fresh shiitake mushrooms, stems removed chopped
3 1⁄2 ounces fresh oyster mushrooms, chopped

6

ounces baby portabella mushrooms, chopped
1⁄2 cup sherry wine

4

cups chicken stock

1

pinch saffron

2

sprigs fresh thyme, just leaves removed from stems
salt and pepper

4

tablespoons butter

4

tablespoons flour

1

pint cream
Soak dried mushrooms in 1 cup hot water till softened.
Remove mushrooms and drain liquid through cheesecloth and saving liquid and discarding sandy bits.
Chop mushrooms set aside.
In the drained hot liquid and crushed pinch of saffron.
Set aside.
In a large pot over medium heat melt 2 tablespoons oil and 2 tablespoons butter.
Saute onions, garlic and all the mushrooms season with thyme, salt and pepper about 5 minutes. Optional carrot and celery may be added along with onions.
Add sherry reduce to half.
Add chicken stock and liquid reserved from mushrooms simmer 20 minutes.
In a separate pot melt 4 tablespoons butter then add flour to make a thick paste whisk in 1 pint of cream.
Then whisk into soup.
Using a hand blender puree the soup to a nice consistency.
Let simmer 5 more minutes stirring so not to burn.
Serve with soup topped with a little extra sherry.