MsPia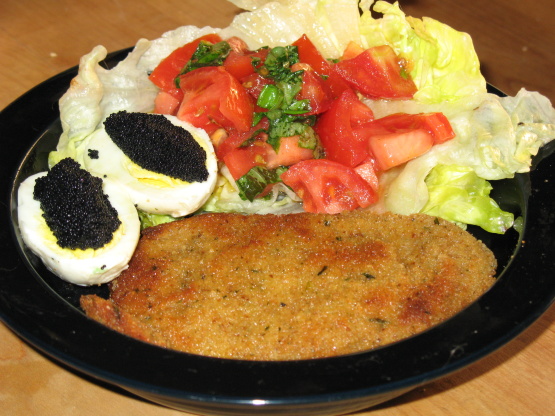 This is such a tasty, but easy, way to prepare veal. A long-standing favourite, and lovely in summer with braised red cabbage, potato salad, and a tossed green salad. Preparation time does not include marinading or setting breadcrumbs in fridge.

I didn't prepare it, but a friend did, and directed me here. Honestly, the marinade killed it; I have to agree with Kiwipom. Total waste of good veal. Sorry, but this is not wiener schnitzel. Wiener schnitzel is veal, tenderized with a mallet, seasoned with salt and pepper, breaded, and fried in a generous amount of fat or oil. I don't mean to be an ass, but that's the way it is.
Mix all the ingredients for the marinade together in a bowl, add veal and ensure it is completely covered by the mixture, and leave to marinate overnight, or for at least 1 hour.
Remove meat from marinade, dip in seasoned flour, then in beaten egg, and finally in breadcrumbs, pressing on firmly.
Place on a rack, and allow to set in fridge for 30 minutes.
Heat butter and oil in a frying pan over medium heat, and saute until veal is golden brown, approximately 2 to 3 minutes each side.
Remove to serving platter and garnish with slices of egg and caviar if desired.
Tip: if you add a few drops of oil to the beaten egg, it helps the breadcrumbs to adhere to the meat.