K9 Owned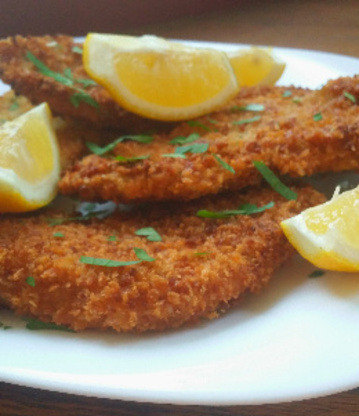 This is an old Betty Crocker recipe that has been used by our family for years. The page is stained and wrinkled from so much use. Haven't found a better recipe for this traditional recipe yet! My only modification in this recipe is less salt, and we use oil instead of shortening.

Wonderful!!! WOW!! I did add 1/4 tsp dried thyme and 1/4 tsp dried basil to flour mixture, and used panko (Japanese) bread crumbs. I had more flour than I needed, but just the right amount of bread crumbs and egg mixture. Even though I thought 30-40 minutes was too long to cook them, I did so anyway...and they were perfect. I did uncover and cook on higher heat the last 5 minutes to crisp the outside. After serving, squeezing a lemon on top brought out the flavors. This was as good as any Wiener Schnitzel I had in Germany. Definitely a real treat and a keeper.
4

(4 ounce) boneless veal cutlets or 4 (4 ounce) veal scallopini
1⁄2 cup flour
1⁄2 teaspoon salt
1⁄2 teaspoon paprika
1⁄4 teaspoon fresh ground pepper

1

egg

2

tablespoons water

1

cup dry breadcrumbs
1⁄4 cup vegetable oil (or canola)

1

lemon, cut in wedges
Mix flour, salt, paprika and pepper.
Coat meat with flour mixture; pound until 1/4" thick.
Beat egg and water until blended.
Dip meat into egg mixture, then coat with bread crumbs.
Heat oil in large skillet; brown meat quickly.
Reduce heat to low; cover and cook 30- 45 minutes or until tender.
Serve with lemon wedges.