Wicklow Pancakes - Ireland
loof751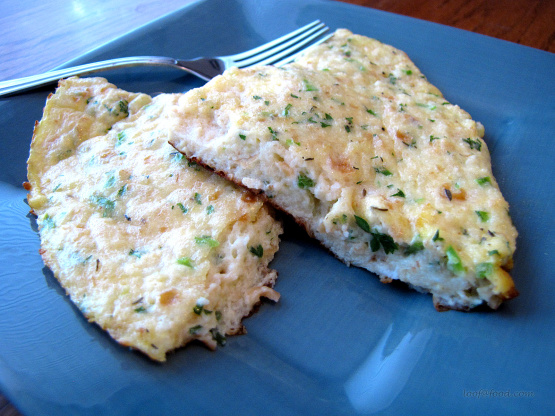 This recipe has been submitted for play in ZWT8 - Ireland. It was found on www.ireland information.com. Those of you who know me, know that I can't resist a good pancake recipe. This savory pancake sounds right up my alley. I hope you will all enjoy this unique Irish treat.

This was quite the crown pleaser for an Irish breakfast celebration on Thursday. I quickly realized that the eggs would never cook in a timely manner and made an executive decision to bake the eggs at 350º for about 15-20 minutes until lightly browned then finished with a final browning under the broiled and then a garnish of fresh scallions and flat leaf parsley. I'm not eating cheese right now but next time I will add some grated Dubliner or Skellig to the eggs (1/3 cup or so) and a garnish of same cheese on top after removing from the oven. We really liked the taste of the browned butter and also, before I forget I increased the breadcrumbs closer to six ounces. I saved the best part for last and only two words: Irish Butter. Amen. Thank you for posting. I will certainly be making this again soon! Prepared for FYC.
Beat the eggs lightly, then add the milk, breadcrumbs, herbs and seasonings, mix well.
Heat 1 tbsp butter in a pan until foaming, then pour in the pancake mixture and cook over a low flame until it is brown underneath and just set on top.
Put under the grill to finish and serve cut into wedges with a knob of butter.
on each piece.