Wicklewood's Gluten Free Scotch Eggs
Sara 76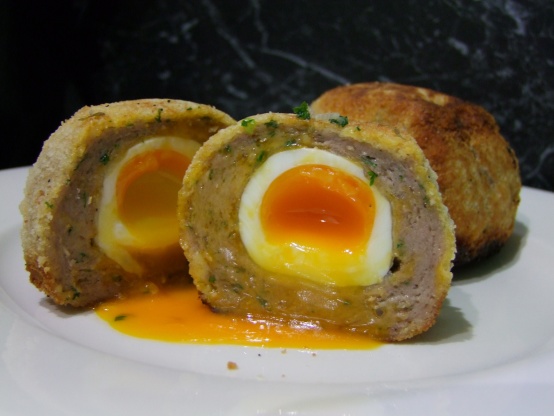 Scotch eggs are another favourite of mine that I can no longer enjoy since being diagnosed with coeliac disease., however, I have combined my two favourite scotch egg recipes and developed a whole new gluten free version...As usual ordinary breadcrumbs and sausage meat can be used if making a non gf version. The double dipping adds an extra layer of breadcrumbs and therefor more crunch. To make the whole process a little less messy, try placing sausage meat mixture portion on some Clingfilm, flatten it out slightly and use the Clingfilm to cover the egg in the sausage. For the seasoning, simple salt and pepper works fine, however, I always use my own seasoning mix Wicklewood's Seasoning Mix. For a healthier alternative try omitting the frying and cook completely in the oven, however, don't forget to increase the cooking time an extra 5 mins to compensate.

I made these for my kids for dinner tonight, and my 10 year old LOVED them! He is taking the leftovers in his lunchbox tomorrow! I didn't make them gluten free, but otherwise made them as written. I soft-boiled the eggs, and they were a delicious gooey surprise in the middle! [Made for Aus/NZ Swap]
Preheat oven to 180c.
In a bowl, mix the sausage meat with the herbs and season well and divide into four portions.
Prepare 3 shallow bowls, one containing the seasoned rice flour, one for the beaten eggs, and the other breadcrumbs.
Take a boiled egg; roll it in the flour,.
Cover the egg in a sausage meat portion.
Roll it in the beaten egg and then in the breadcrumbs.
Repeat this process for all the boiled eggs, set aside for five minutes.
Double dip the eggs in the beaten egg and breadcrumbs one more time for extra texture.
In a heavy based pan, heat the oil and, place the eggs in the oil and fry gently, turning regularly, for 5-6 mins or until they are golden brown and crispy
Transfer to a baking sheet and cook in a preheated oven for a further 10 minutes.
Serve hot or cold.