Wicklewood's All Too Easy All in One White Sauce
ImPat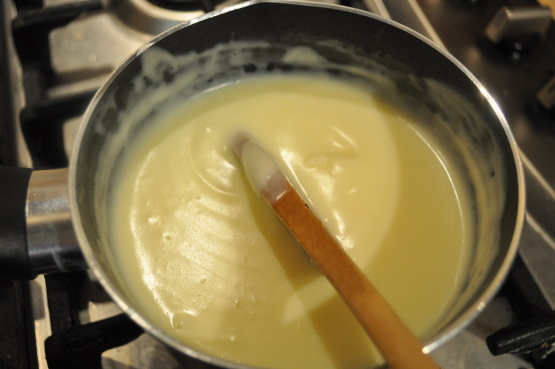 I have always made my savoury sauces using the traditional roux method, and I always will because I am a traditionalist. HOWEVER, this method is so easy and so painless, and as long as you allow it to continue to cook for several mins after it thickens (to remove the raw flour taste) it tastes like you spent ages making a roux.

Top Review by ImPat
Overall for a quick white sauce good but have to admit I would rather take that little bit of extra time and make a roux and do it traditionally but biggest issue here was that I did follow the recipe exactly but ended up with a very thick custard consistency of sauce and added about another 1/2 cup milk to get it to a pouring consistency and then added cheese (for a cheese sauce) and put back on the heat to melt cheese and to heat up. The other thing I noticed was as the sauce cooled it was a lot quicker to set/thicken than the traditional sauce as it cooled. If you are in a hurry and want a quick fix and willing to add other flavours (eg or herbs or a bit of mustard) this is a good recipe to go with and would happily recommend. Thank you WicklewoodWench, made for Aussie forum Make My Recipe.
Place all the ingredients in a saucepan.
Whisking continuously, bring to a boil.
Reduce heat but continue to whisk and cook for 2 minutes.
Add preferred flavouring such as cheese or parsley.
Season to taste and serve as desired.