Wicklewood's Addictive Potato Salad (Warm or Cold)
Annacia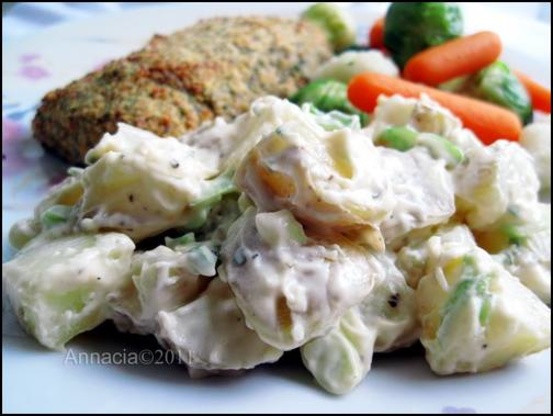 This potato salad has been a firm favourite in our family for years, served hot while the potatoes are still warm which melts the mayonnaise slightly or cold as a refreshing side dish. I never peel new potatoes, there's just no point, but if you really don't like the skin, a light scraping with a clean scourer will do fine. Size again, is a matter of preference, my family like quite large bite sized chunks of potato, but if I'm making it for a special occasion will cut the potatoes into 1/2 chunks.

I loved the aioli in this it added a new dimension! Used baby Yukon Golds which worked perfectly. DH thought it was too plain and wanted eggs and pickles chopped into it which I didn't do. I made it about 30 mins before dinner and served it at a bit above room temp. Made for Photo Tag.
In a large pan (with a lid) of salted water boil the potatoes until just tender, approximately 15mins.
Drain place a folded clean tea towel or paper towel over the pan, replace the lid and set aside.
Meanwhile in a large bowl mix together all the other ingredients.
Once the potatoes are cool enough to handle (but not cold) cut in half or quarters, depending on size.
Add to the mayonnaise mix and stir well ensuring the potato is well coated.
Serve immediately if wanted warm potato salad and chill for 1 hour if you prefer it cold.