Wicked Blueberry Coffee Cake
Brenda.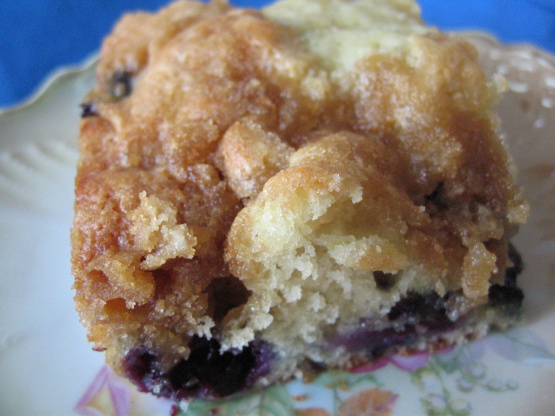 From Murder on the Rocks by Karen MacInerney. I haven't tried this yet but it sounds good.

Not a bad little coffee cake! My batter was quite thick so I spread it evenly in my pan and then sprinkled on the topping. It took 42 minutes in my oven until only very moist crumb was on the toothpick when tested vs batter. It was still warm when we sat down to have our coffee this morning and it was a nice treat. Thanks for sharing. Made for My 3 Chefs 2007. Nick's Mom
Cream the 1/2 cup of butter and 1 cup of white sugar.
Add the eggs, vanilla, baking powder, baking soda, and salt.
Add the 2 cups of flour and sour cream alternately to egg mixture, mixing with a spoon.
Fold in the blueberries.
Pour mixture into a greased 9 x 13 baking pan.
In a seperate bowl, cream brown sugar and remaining 1/4 cup butter.
Add flour to get a semi-dry mixture.
Spread on top of batter.
Bake in 350 degree oven for 30 minutes.