Why-He-Married-Me Dilled Potatoes
diner524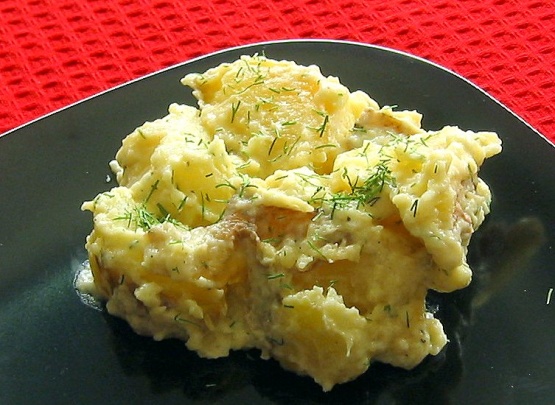 When my (now) husband and I were dating, I was inspired to create several new dishes featuring his favorite flavors. He won't admit it, but I think this is what got him to propose. These are flexible enough to serve with steak or fish. I've made them in the oven or crockpot and they are almost as good that way. They are a great make-ahead and reheat dish for entertaining.
This was a wonderful change from the garlic mashed potatoes type dish. I followed the recipe as stated except I cut it in half, which worked just fine. I liked that the potatoes were not mashed and the creamy sauce covering them and elegant enough for company. Thanks gourmetmomma for a great recipe!!
Ingredients note: If you have larger potatoes, cut them in half or quarters before cooking. The tiny bite sized ones are best.
In a medium saucepan (big enough to hold the potatoes and has a lid), heat the olive oil and butter (1 tbl). Add the onions, garlic, and and stir.
Toss the potatoes in the salt (1/2 tsp). This works best if the potatoes are damp.
Add the stock and then the potatoes. DO NOT STIR, and try not to knock the salt off the potatoes. Leave the onions on the bottom. Bring the stock to a simmer and turn down heat to lowest setting. Cover.
Leave it alone for 30-45 minutes. The onions are caramelizing on the bottom of the pan, and the potatoes are steaming.
After 30-45 minutes, the potatoes should be fork tender. Take the pot over to the stove and carefully drain out most of the cooking liquid. Not all of it, leave about 1/4 cup in the bottom of the pan.
If you cooked whole potatoes, prick some of them with a fork and mash a few. If you cut them in half, you can skip this step.
While the potatoes are still hot, add the remaining tablespoon of butter, the pepper, and the remaining salt. Toss gently to combine. Add the sour cream and fresh dill.
Garnish with additional dill and cracked black pepper. Add crisp bacon if you are trying to get a man's attention.
This makes great leftovers. It is better the next day. I like it cold like a potato salad.