vrvrvr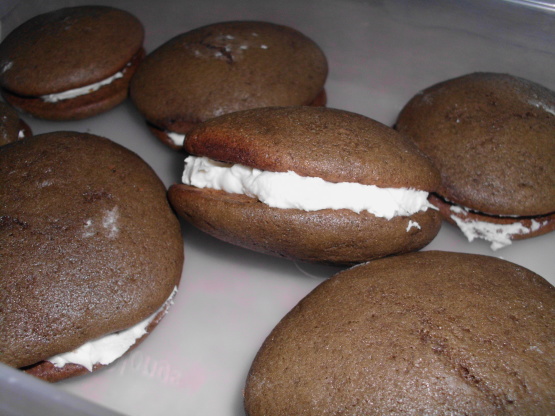 This is an old New England classic, adapted from an old Gourmet recipe.

Top Review by vrvrvr
Oh yes, these are gourmet Whoopies indeed! I used a mix of half shortening and half butter for the cake part, and same with the filling. The cakes baked up perfectly at 10 minutes and were a breeze to remove from the parchment. They are very soft, not overly sweet or chocolatey. The filling is a simple buttercream frosting (and I used heavy cream instead of milk - oh why not?!) and is delicious with the cakes. I used less confectioners' sugar in the filling. Bakery whoopie pies always have that predominant (and off putting) shortening-taste/mouth feel to me which these don't at all. They may not be authentic (no marshmallow creme needed) but they're just divine!
Cream shortening and sugar.
Add eggs and beat well.
Sift together dry ingredients.
Combine milk and vanilla in measuring cup.
Add dry ingredients in alternation with milk mixture, mixing well after each addition Drop tablespoons of batter onto parchment paper on a cookie sheet.
Bake at 375 until puffed and firm to the touch, about 10-12 minutes.
Do not overbake.
Cream together butter, vanilla, salt, and confectioner's sugar for filling.
Add just enough milk to make a spreadable consistency.
Sandwich a generous amount of filling between two cake halves.