Wholesome Homemade Honey Whole Wheat Bread
gailanng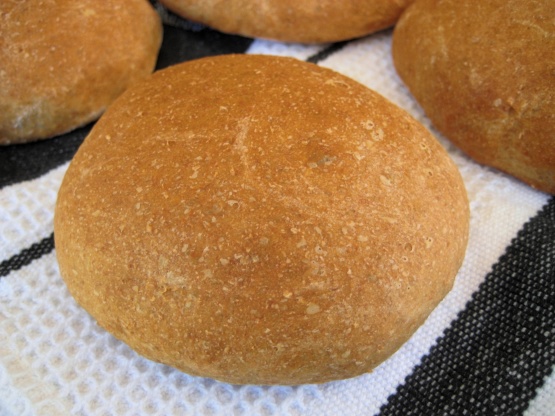 This is the most awesome wheat bread I have ever eaten. It is worth the extra effort and because this recipe makes 4 loaves, you can freeze them and have enough for awhile :) Rising time included in prep.

I thought I would update my review, just in case it sells this recipe better. I have been making this bread for over a year now and is part of my best recipes collection. I have discovered that in weight, the wheat flour is 2 lb. and 4 oz. and the white flour is 1.5 lb. This makes the prep even easier. This bread has it all; perfect structure and texture, incredible flavor, beautiful crust, and versatility...it toasts up very nicely. I don't understand those who have altered their baking times and temperatures...375 for 40 minutes has worked every time for me, and the crust is supposed to be a bit on the dark side...perhaps your ovens are out of sinc? I have easily made around 200 loaves with this formula since I found it, and it is always met with appreciation and grattitude. My sister even offered to buy 8 loaves from me to give away as Christmas gifts, and she said each recipient loved it. Awesome recipe!
Dissolve yeast in warm water.
In a large bowl, combine butter, molasses, honey and salt and mix well.
Add yeast mixture and then gradually add flours.
Turn onto floured surface and knead until smooth.
Place in buttered bowl and let rise until double.
Punch down and let rest for a few minutes.
Divide dough into 4 parts and shape into loaves.
Place in greased pans and let rise for about an hour.
Bake at 375* for 35 to 40 minutes.