Whole Wheat Waffles With Blueberries
Nimz1466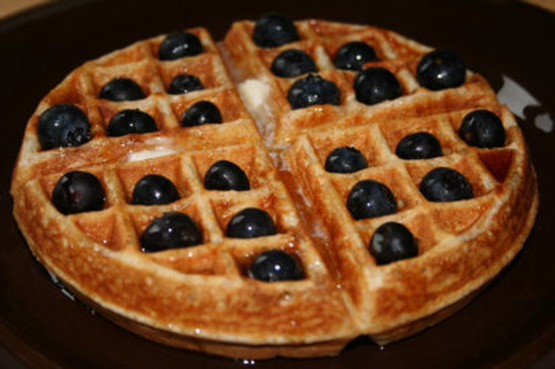 The waffles are very good without the blueberries, but hey, why not shoot the works? Should I mention that this is a healthy breakfast? Baking time is actually however long it takes your waffle iron.

YUM! If you are looking for a light fluffy waffle that you can make either soft or crunchy on the outside, this one is for you. I decreased the milk to 2 cups for a thicker batter that wouldn't run out of my waffle maker. I added one splash of vanilla. How to get fluffy waffles: Separate the 2 eggs, add the egg yolks to the other ingredients and beat the 2 egg whites to a stiff peak. After all of the other ingredients are mixed well, fold the egg whites into them. Perfect waffles! The whole family was begging for more, even the little ones! Cook longer for a if you like the outside crispy. Thanks for this great recipe.
Mix all of the above ingredients together, except blueberries and syrup.
Bake in a preheated waffle iron.
Place a blueberry in each of the waffles "cups" and top with syrup.