Whole Wheat Sour Cream Cornbread
COOKGIRl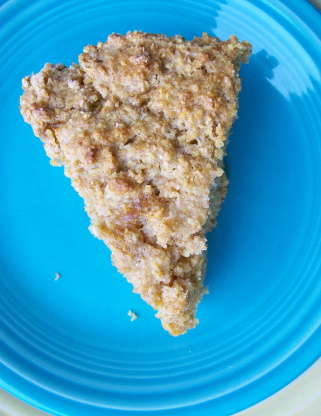 I found this recipe on the blog "Ponderings from Picket Fence Cottage" as part of a post on whole foods. It has a really unique flavor, not too "corny" and with a slight tang from the sour cream. The texture is excellent, tender yet firm. Hope you enjoy it.

WHAT A GREAT RECIPE!!! The thick consistency freaked me out, but I went with it anyway and it was WOW!!!! I did decrease temp to 400 and cook for 25 mins for more even cooking. This would be great spoon bread as well. I made a lot of changes: substituted 2t baking powder for the soda and tartar; brown Splenda Blend for the sugar; 1/4 c egg substitute for egg. All worked well. Also added 1/2 c chopped fresh jalapeno and 1/2 c chopped fresh onion. It was amazing. Chef might want to update directions to include adding the brown sugar for new cooks who want to try this recipe.
Sift flour and cornmeal together; add soda, cream of tartar, and salt.
Whisk together egg, sour cream, milk, and oil (or melted butter) in separate bowl.
Add wet to dry ingredients and stir until combined.
Pour into greased 9 inch square pan. Bake at 425 degrees for 20 minutes, until golden brown.