Nimz1466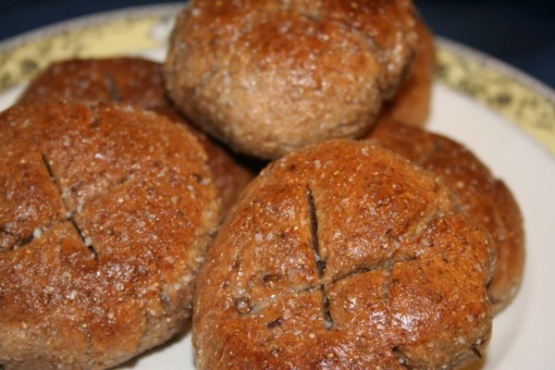 I thought these sounded good and I'm planning on making these soon to go with a hearty beef stew. Recipe source: Martha Stewart Living.

I made these rolls today and they were very good.I only made a few changes.I added 1Tbs.glutten to help rise,1/4cup instant potato flakes to keep moist and replaced sugar with barley malt syrup and added 1/2cup more water.I think these would make great rolls for sandwhiches .Thank you for a keeper.
Line a cookie sheet with parchment paper and set aside.
Butter a large bowl and set aside.
In a large bowl combine yeast, water, sugar, egg and 3 tablespoons butter and mix on medium speed using a dough hook for one minute.
Reduce mixer to low and add salt, flours and caraway seeds. Increase speed to med high and beat until dough comes together (10 minutes).
Turn dough onto a lightly floured board and knead until smooth.
Transfer dough to buttered bowl and turn to grease all sides and then cover with plastic wrap and/or a towel. Let rise in a warm place until double (1 hour).
Turn dough onto floured board and cut into 12 equal pieces and then roll pieces into balls.
Place balls on prepared cookie sheet and let rise for one hour.
Preheat oven to 350°F.
Cut an "x" in the top of each roll.
Bake for 30-40 minutes or until golden.
Transfer rolls to cooling rack and brush each roll with 3 tablespoons melted butter and then sprinkle with salt.