Whole Wheat Rolls With Currants and Toasted Walnuts
COOKGIRl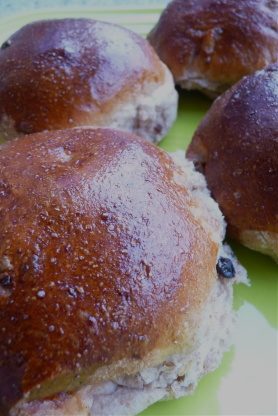 This recipe was in Ladie's Home Journal (1998) featuring "Daily Breads" (good enough to eat daily). The hearty rolls are dark colored with a nice glossy sheen and are great for breakfast, lunch, or dinner. Uses a food processor. Dough comes together in about 20 minutes but must allow time for two rises. These remind me of Bagel Energy Bars.

A big hit at Easter--this healthful roll was enjoyed by many different types of eaters, even those who don't normally go for whole wheat breads. I made the dough by hand, and it worked great. Toasting the walnuts made the rolls particularly tasty. Thank you, Roxygirl, for sharing. I'll be making these rolls often!
Combine currants and hot water in glass measuring cup and let stand ten minutes, until currants are plump and water is a light caramel color.
Remove currants with slotted spoon and add enough water to return current liquid to 3/4 cup.
Meanwhile, sprinkle yeast over warm water (this is the other 3/4 cup water, not the reserved current water) in small bowl and let stand until creamy.
Add yeast to reserved currant liquid and stir in honey and butter.
Pulse flours, wheat germ, and salt in a large-capacity food processor.
With machine on, add yeast mixture through feed tube, processing just until mixture comes together.
Process 30 seconds more, until the dough forms a ball.
Add reserved currants and walnuts, pulsing a few times until the walnuts are chopped.
On lightly floured surface knead dough until currants and walnuts are evenly distributed.
Place dough in lightly greased large bowl, turning to grease top.
Cover bowel with plastic wrap and let rise in warm place until doubled in bulk, 1 hour.
Grease a large cookie sheet and sprinkle with cornmeal.
Divide dough into 16 equal pieces and shape each piece into a ball.
Arrange balls about 1 1/2 inches apart in four rows on prepared sheet.
Cover and let rise until almost doubled in bulk, 45 minutes to an hour.
Arrange oven rack to lower third of oven and heat oven to 425 degrees.
Brush roll tops with egg white.
Bake 18 to 20 minutes, until golden brown.
Cool on wire rack.
Serve warm or at room temperature.
These rolls freeze very well.