ChefLee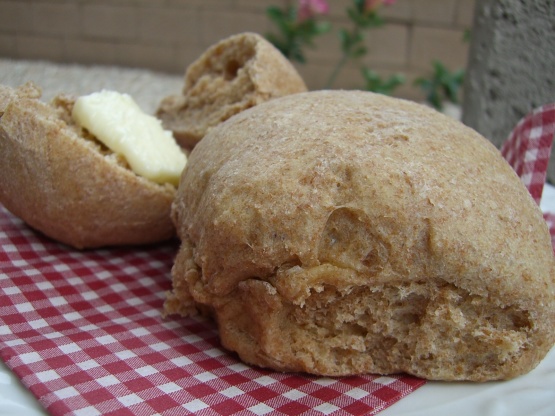 These are a light roll. They contain a large proportion of whole wheat flour, and well as molasses. Good with a pot of stew, or use for roast beef bunwiches.

Pretty good, but I agree with others who say that they need more sugar. I'll make them again, but I'll add an extra tablespoon of molasses or maybe some honey. I let the whole thing rise over night in the fridge, took them out and punched them down and cut them into rolls about 3 hours before I needed them. Great texture, very pretty, just needed a bit more flavor.
Stir sugar in warm water in large bowl.
Sprinkle yeast over top.
Let stand 10 minutes.
Stir to dissolve yeast.
Beat in next 5 ingredients in order given.
Beat on medium for about 2 minutes until smooth.
Work in enough whole wheat flour until dough pulls away from sides of bowl.
Turn out onto floured surface.
Knead 8 to 10 minutes until smooth and elastic.
Place in greased bowl, turning once to grease top.
Cover with clean tea towel.
Let stand in warm place until doubled in bulk, about 1 1/4 hours.
Punch dough down.
Cut off egg-sized pieces.
Shape into buns.
Place on greased baking sheet.
Cover again with tea towel.
Let rise until doubled, about 45 minutes.
Bake in 350 oven for 15-20 minutes or until nicely browned.
Makes 18 buns.