Whole Wheat Pasta With Greens, Beans and Pancetta
Hank B.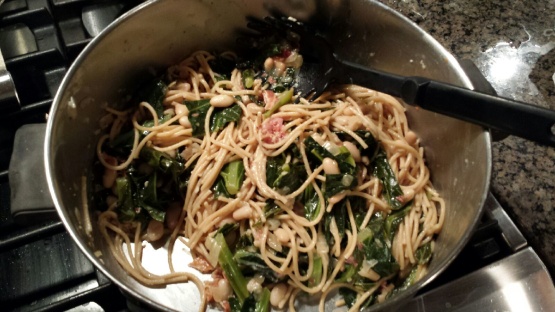 A steamlined Italian classic from Cook's Illustrated.
2

slice sandwich bread, torn into quarters

44.37

ml olive oil, divided

6

garlic cloves, minced, divided

7.39

ml salt, divided

85.04

g pancetta

236.59

ml minced onion

1.23

ml red pepper flakes

453.59

g kale, rinsed but not dried, thick stems trimmed off, leaves chopped into 1-inch pieces

354.88

ml low sodium chicken broth

425.24

g can cannellini beans, drained and rinsed

375.63

g whole wheat spaghetti (weight may vary by brand, you want about 1 pound)

113.39

g Fontina cheese, 1 cup grated
Make garlic breadcrumbs: In a food processor, pulse bread until coarsely ground.
Heat 2 tablespoons oil in a 12-inch skillet over medium-high heat. Add the breadcrumbs and cook, stirring frequently, until beginning to brown, about 3 minutes. Stir in 1 tablespoon garlic; cook stirring constantly until garlic is fragrant, about 1 minute. Salt to taste and remove to a small bowl.
Wipe out skillet with paper towels. Heat remaining oil over medium-high heat. Add the pancetta and cook until crisp, about 8 minutes. With a slotted spoon, transfer to a small bowl.
Add the onion to the pan and cook until starting to brown, 5 minutes or so. Add remaining garlic and red pepper flakes. Cook another 30 seconds.
Add half the greens to the pan and toss until starting to wilt, about 2 minutes. Add remaining greens and broth and 3/4 tsp salt. Cover (pan will be full) and increase heat to high and bring to a strong boil. Reduce heat to simmer and cook, covered, tossing occasionally until greens are tender, about 15 minutes.
Stir in the beans and pancetta. and cook until heated through. Cover and remove from heat.
Meanwhile, bring 4 quarts water to a boil in a large pot for the pasta. Add salt to taste and the pasta. Cook stirring often, until pasta is just shy of al dente. (refer to package directions).
Drain pasta and return to pot. Add the greens/beans/pancetta mixture to pasta and toss to combine. Cook over medium-high heat until pasta absorbs most of the liquid, about 2 minutes.
Stir in the fontina cheese and serve immediately with garlic breadcrumbs.