Whole Wheat Oat Banana Bread
fawn512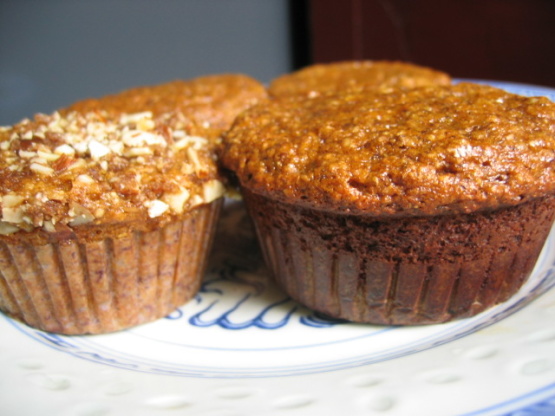 Very gooey and yummy, this is my favorite Banana bread recipe. TIPS: Buy whole wheat flour that has NOT been bleached. Use only PURE honey. Use Almond, Rice or Soy milk (try not to use cow milk). Extra virgin cold pressed olive oil has the best taste and has no extra junk in it. Use real vanilla extract, imitation has too many chemicals and not as good a flavor. Has plenty of fiber to help cleanse the colon which is always the best place to start cleaning for a successful diet and a healthy lifestyle.

This banana bread is awesome! I used 1/2 cup flax seed meal, 1/2 cup of whole oats (ground up in the food processor) and 1 cup of whole wheat flour. I added more walnuts (3/4 cup), used 1 tablespoon of olive oil & added an extra egg (for more protein). And used 1 tablespoonful of vanilla. I love this recipe!
Preheat oven to 350.
Oil bread pan.
Mix oat bran, flour, baking soda, baking powder and walnuts in a bowl.
Put honey, olive oil, egg, milk, vanilla extract and bananas in blender and mix completely.
Add to dry ingredients and mix well.
Pour into pan.
Bake for 30 minutes.
Cool completely.
Enjoy.