Whole Wheat Gingerbread Pancakes
PaulaG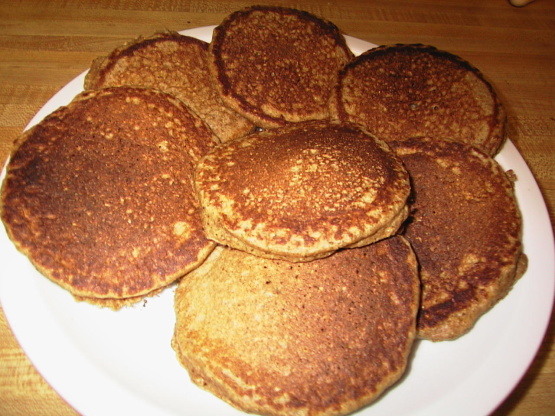 This tastes like dessert for breakfast. Top with some whipped cream for a real treat and a happy start to your day.

These have become our family favorite. I use canola oil instead of melted butter and regular apple juice instead of the concentrated to cut down on the fat and sugar a little. We serve with Buttermilk Syrup recipe #16717. Any time I serve these to company they always ask for the recipe. Thanks!
Whisk first 6 ingredients in a large bowl to blend.
Whisk apple juice concentrate, water, butter and eggs in a medium bowl to blend.
Add to dry ingredients, whick batter just until blended.
Heat heaby griddle or skillet over medium-high heat; brush with some oil or butter.
Pour batter by 1/3 cupfuls onto griddle, spacing 2 inches apart.
Cook until pancakes are golden brown, about 3 minutes per side.
Transfer to plate and keep warm in low oven while making the rest of the pancakes.
Serve with butter, maple syrup or apple butter.