Whole Wheat Dinner Muffins
Annacia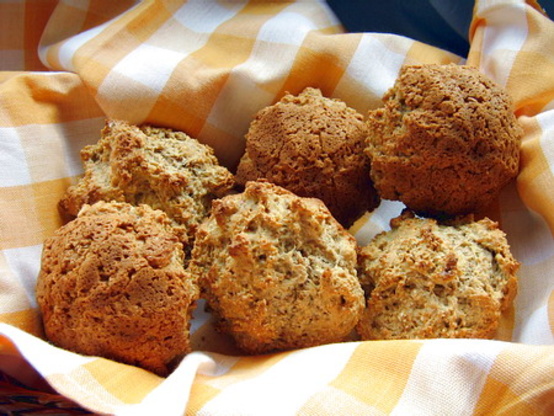 These are easy to put together and bake in about 18 minutes. They are low in fat and high in fiber. The recipe comes from Diabetes Cooking Magazine.

LOVE LOVE LOVE these! I have made them several times and done variations using wheat bran instead of oat bran, adding diced garlic, or have even made them using finely chopped apple. The version with finely chopped apple goes great with pork chops! Thanks for posting this wonderful recipe - makes eating healthy much easier!
Preheat oven to 425 degrees.
Spray 10 muffin tins with non-stick cooking spray.
In a large bowl, mix the flour, bran, baking soda, baking powder and salt.
Make a well in the middle of flour mixture and pour in the buttermilk and oil.
Mix quickly with a rubber scraper until flour disappears, folding dough with a kneading motion.
Shape the dough into a round ball.
Using 2 tablespoons of dough for each muffin, shape into a ball and place in prepared tin.
Repeat until all dough is used.
Bake for 18 minutes.