Whole Wheat Couscous With Plums, Goat Cheese and Fresh Mint
GaylaJ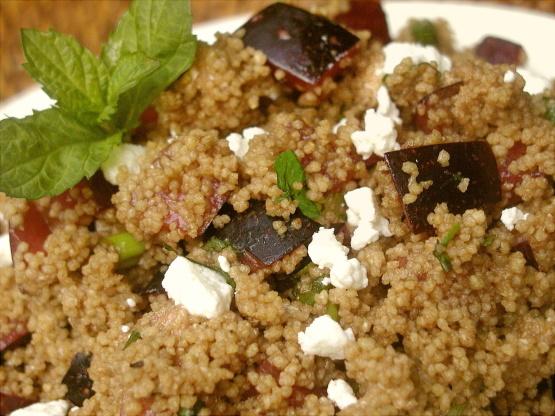 Delightful mix of flavors from Prevention magazine. Although I submitted the cooking directions for the couscous as given, please check the directions on your particular package. The cooking directions on my box were different so I followed the package instructions, rather than the recipe, for cooking the couscous. The balsamic vinegar does darken the dish, so use white balsamic if you prefer. I have never used it, though, so I am unsure what taste difference there would be.

This is sooo good. I don't really pay attention to the proportions. Sometimes I throw in some greens like arugula. This is definetly a favorite. Good combination of sweet, herby, sour, creamy...I could probably eat this every day. And it is way too fast and easy to make.
1 1⁄2 cups water (or the amount your package instructs using to cook 1 cup couscous)

1

cup whole wheat couscous

3

ripe plums, chopped

2

scallions, thinly sliced

2

ounces aged goat cheese, crumbled
1⁄4 cup chopped of fresh mint

3

tablespoons honey
3 1⁄2 tablespoons balsamic vinegar
salt and pepper, to taste
In a medium saucepan, bring water to a boil.
Add couscous, stir, and turn off heat; cover saucepan and let rest for 10 minutes.
Fluff couscous with a fork and transfer to a medium bowl.
Allow to cool, then add plums, scallions, cheese, and mint.
In a small bowl, whisk honey and vinegar until honey has dissolved; pour over couscous and gently toss.
Season with salt and pepper to taste.