Whole Wheat Chocolate Pan Cake
NolaC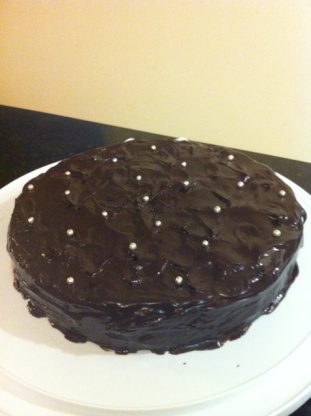 This chocolate cake is so delight ! No one can tell it is made with 100% whole wheat flour.

Top Review by NolaC
I found this recipe extremely easy and convenient. Ingredients you always have in the house and inexpensive because there are no eggs. I substituted the cup of water for half a cup of water & half a cup of milk, to make it richer. It baked beautifully, I did use baking strips so it came out perfectly flat, and turned out of the pan perfectly.
Beautiful rich frosting, the cake looks fantastic. Can't eat it until tomorrow (birthday cake) but I will post again on taste. Great recipe but the proof is in the eating !!!

Ok, I'm back. This cake (as in the eating) went down very well with all the birthday guests. It does have a slightly more grainy texture than cake made with white (and processed) flour but it has a rich chocolatey taste and the frosting is a lovely (not sweet) addition. Easy to make, will definitely make again !
Heat oven to 350º F.
In a medium bowl, mix flour, granulated sugar, cocoa, baking soda and salt.
In a smal bowl, mix oil, vinegar, water and vanilla.
Stir water mixture into flour mixture with spoon about 1 minute or until well blended.
Pour into greased 9X13 inch pan.
Bake for 20-25 minutes or until toothpick inserted in center comes out clean.
Spoon hot chocolate frosting on top of warm cake.
Frosting:.
In a small saucepan, melt butter and chocolate chips. Stir in milk and powdered sugar. Whisk until no lumps remain in mixture.