Whole Wheat Chocolate Chunk Biscotti
ninalynn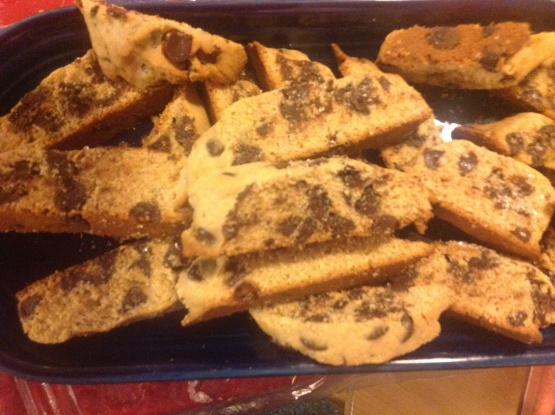 These cookies aren't for everyone, but they are my personal favorite. They are very different from other cookies. The flavor and texture are much more intense.

These are certainly different from most of the other biscotti I've made, but interesting, too, what with the honey & whole wheat flour ~ Definitely a nice addition to any biscotti tray! Will be keeping this recipe around & making it again during the holidays, & will probably double or triple the batch! Thanks for posting! [Tagged, made & reviewed in My-3-Chefs]
Melt coconut oil and mix with honey, vanilla and egg in a large bowl.
Mix in chocolate chunks and walnuts.
Add whole wheat flour, baking powder and salt and mix well.
Shape into a log (log will be moist -- it helps to spray hands with non-stick vegetable spray when shaping) and bake at 350°F on a parchment paper lined cookie sheet for 30 minutes.
Remove from oven and cool whole log on wire rack for 10 minutes.
Meanwhile lower oven temperature to 325 degrees.
After the 10 minutes, slice log into cookie slices and place back on cookie sheet, leaving space between each cookie.
bake for 15-20 minutes more.
Remove from oven and cool completely on wire rack.
*For variation sometimes I add 1/4 cup baking cocoa with flour.