Whole Wheat Chocolate Chip Pancakes
loof751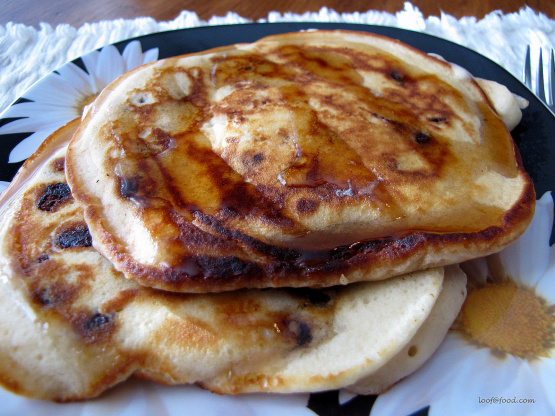 I wanted healthier ingredients in a simple recipe to make pancakes for my kids. They love this - they eat the leftovers cold out of the fridge. :)

Great pancakes, light and fluffy! I made half of the recipe and used a slightly smaller amount of chocolate chips. Served with just a bit of syrup as the pancakes themselves were pretty sweet. Tasty breakfast treat - hanks for sharing the recipe! Made for Spring Pick-A-Chef 2012
Beat the eggs with a whisk or hand beater until fluffy. Beat in remaining ingredients (except chocolate chips) just until smooth. Gently stir in the chocolate chips. For thinner pancakes, add milk a couple tablespoons at a time until it's thin enough for you.
Heat griddle or skillet over medium heat. Pour heaping 1/8 cup of batter (or scant 1/4 cup) onto hot griddle. Cook pancakes until puffed and dry around the edges, then flip and cook until golden brown. Repeat until you've used all the batter. I use a griddle and cook 6 at a time.
*if your coconut oil is cold and solid, melting it on the griddle you're going to use before you add it to the batter will make it easier to stir in.