Whole Wheat Chocolate Chip Cookies
kindcook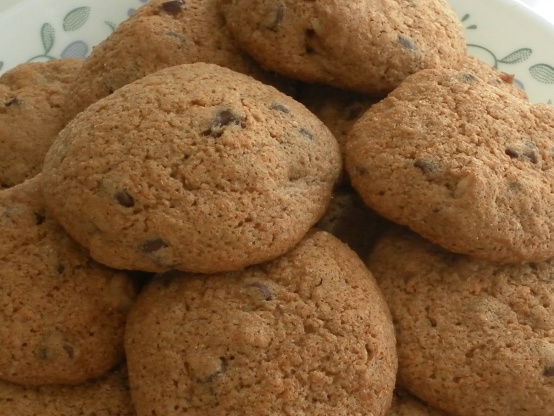 Another winning recipe from the Nutrition Action health letter, using tub light butter and whole wheat flour. People are surprised how much they enjoy the flavor of these, and I have to agree! The texture and taste won't disappoint. Refrigerate any unused dough, as they're best the day you make them. Makes 48 (3/4 ounce) cookies. If you prefer larger cookies, just increase the cook time by a few minutes.
These cookies came out ravishingly! I used King Arthur w/w flour and Green and Blacks 85% chocolate chunks! The texture is really superb. . If I were to make these cookies for my vegan freinds, I could easily substitute a t.b. golden flax meal for the egg! Simpke and delicious.
Combined the flour, baking soda, and salt and set aside.
In a large bowl, combine the tub light butter and sugars and beat until smooth.
Add the egg and vanilla and beat until smooth.
Add the flour mixture and beat until all the flour is combined.
Stir in chocolate chips and walnuts if desired.
Drop the dough, one spoonful at a time onto an ungreased baking sheet (NOTE: I've found refrigerating the dough, especially overnight, makes it much easier to shape and more like store bought cookie dough).
Bake at 350 F for 10 to 15 minutes or until cookies are just browned.
Remove from the sheet to cool.