Whole Wheat Carob Brownies
Prep 10 mins
Cook 25 mins
fudgy carob brownies like the ones from Crumb's Bakery in Athens, Ohio. Made with healthy whole wheat flour and adapted from a recipe in How it All Vegan.
Directions
Preheat oven to 350°F.
In a large bowl, mix together all of your flours, baking powder, salt, and carob powder.
Add in the honey, juice, oil and vanilla and stir just until combined. Don't worry if there are some lumps - it's okay!
Spread into a greased 8*8 inch pan. Bake for 25-30 minutes, or until a toothpick or knife inserted in the middle comes out clean.
Most Helpful
This recipe confused me. The quantity of batter just seemed too little for an 8 X 8. I baked it in an 8 x 4 and had enough left over for two muffins, and the suggested baking time turned out to be correct, so I don't understand how it could possible fit an 8 X 8 and be of reasonable thickness. I also added one egg and found the texture to be very nice that way. Used a mix of honey and agave and it was way too sweet to my taste. Made it impossible to taste the carob or vanilla flavors. Next time I would try 1/2 cup instead of 3/4, or maybe even less.
Very good! It's not every day that I find a recipe that I don't have to completely modify to suit my preferences. The only significant modification I made was to substitute the honey or maple syrup with date paste (economical and nutritious) that I made by boiling 3/4 cups chopped dried dates with maybe 1/4 cup water. My BF and I thought they were sweet enough and perfectly delicious that way, but I think the date paste makes them a little too dry : next time I'll add more water. We'll do this again for sure!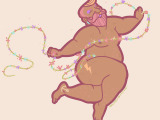 Delicious! Used Coconut Flour, Amber Agave, and Coconut oil in place of what the recipe calls for. I also added some unsweetened coconut shavings inside the batter. Turned out soft and chewy at the same time as being crumbly. Half of the carob brownie heart gone in only 1 day.