Whole Wheat Buttermilk Pancakes
Rita~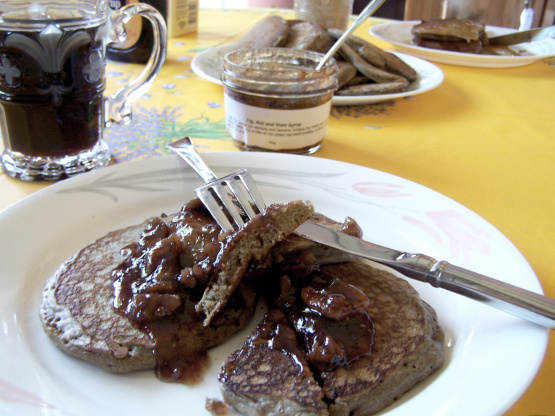 Good for you and good to eat.

These were good, though we added chocolate chips and made a tasty fruit syrup on the side. The batter is very thick, so we added some skim milk to thin it a little, maybe 3-4 TBSP. This made it a lot easier to make the pancakes. Thanks!
Preheat oven to 200°F.
Combine flours, baking powder, cinnamon, soda and salt well; beat egg whites with sugar until thick and mixture has the consistency of sour cream, about 1 ½ minutes; spoon dry ingredients evenly over egg whites; carefully pour buttermilk and melted butter over; fold until combined.
Heat pancake griddle over medium heat; add butter and heat until sizzling; drop batter by rounded tblsps onto griddle; cook pancakes until bottoms are brown, about 1 ½- 2 minutes; turn and cook until the other side is brown, about 1 more minute; transfer pancakes to a cookie sheet and keep warm in preheated oven; repeat with remaining pancake batter, adding more butter to griddle as necessary.