Whole Wheat Bread With Sunflower Seeds
Ophirmom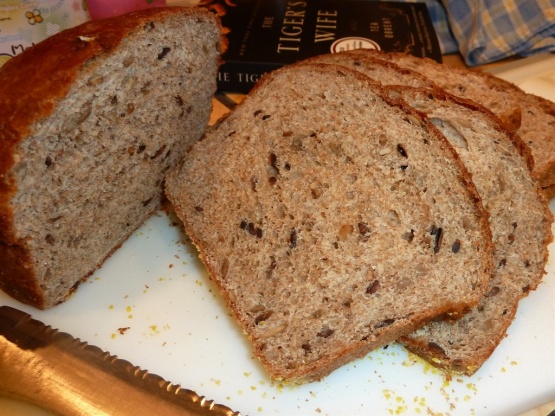 Soft, yummy, wholesome bread! Easy to bake! Try it today!

A great loaf of wholewheat bread! I threw caution to the winds and put all the ingredients in my bread machine, on normal cycle. It came out a perfect 1 1/2 lb loaf. This is my new WW bread recipe. Thanks, Carole in Orlando
Start with a sponge. Mix together all ingredients except for the flour in your kitchenaide mixer stand. Add 1 1/2 cups of the flour and let stand for 30 minutes till bubbly in mixer bowl. Then add in the remaining flour till the dough is ready to rise in a greased bowl. The dough should not be sticky and springs back when touched. Let rise for 1 1/2 - 2 hours or double in size in a greased bowl covered with plastic wrap. Form dough into a loaf and place in your loaf pan. Let rise another 30-45 minutes till double. Bake at 350 degrees for 30 minutes. Butter the top when done and let cool.