Whole Wheat Blueberry Muffins
ShaGun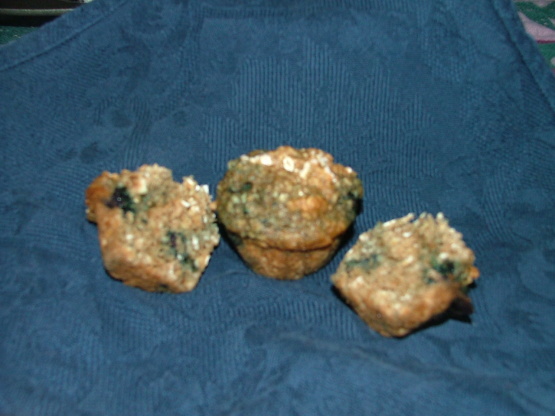 This is my healthy modification of an easy to make muffin recipe from "The Garden of Vegan" by Tanya Barnard and Sarah Kramer. I love these because they're not "wet" as many healthy muffins seem to be. If you don't use the blueberries, you could add more milk (up to 1 cup) as the blueberries make the muffin very "wet" but dried fruit wouldn't. Feel free to add in chopped nuts, unsalted seeds (sunflower, pumpkin) or other dried fruit that you like. Make these vegan by using soy milk. And if you don't have flax seeds, replace the 1 tbsp flax seeds and 3 tbsp water with 1 egg.

Top Review by ShaGun
I made these into 24 mini-muffins (baking for 12 minutes). They are not very sweet. My 2 boys loved them anyway since they were easy to pop in your mouth. They are healthy. I think if they were full-size muffins the lack of sweetness would make them less palatable. I probably won't make these again but they're worth trying once.
Preheat oven to 400°F Prepare muffin tins with muffin cup liners.
Prepare the "flax eggs" by first grinding the flax seeds. Add the water to the ground flax seeds and blend together until it starts to thicken up a bit.
In a medium bowl, stir together the "flax eggs", applesauce, vanilla and sugar. In a large bowl, stir together the oats, flours, cinnamon, baking powder, baking soda, and salt. Add the wet mixture to the dry mixture and gently fold together. Gently stir in the blueberries and spoon into muffin tins and bake for 20-25 minutes or until a toothpick comes out clean.