Whole-Wheat Biscuit Triangles
Annacia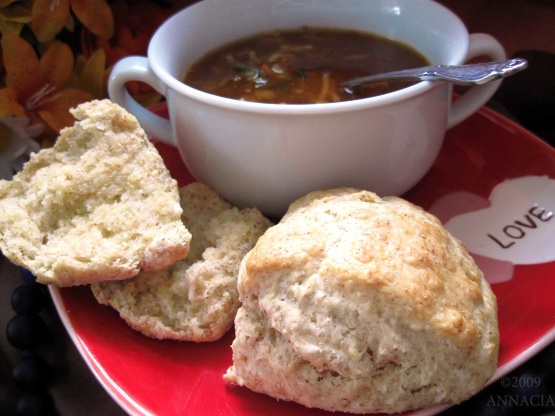 This is really a superior biscuit recipe, without a doubt one of the best I have ever made (and I've made a lot of biscuits). This has just become my gold standard of biscuits. I used a "good fat" margarine for the butter, soured skim milk with vinegar and skipped the honey out of personal preference. These rise like skyscrapers and are amazingly fluffy. I made a 1/2 recipe and needed no extra milk , in fact I needed another good tablespoon of flour (this could well be because of the very high humidity from all the rain we've had this summer. I should mention that I baked on parchment paper instead o buttering the sheet. This is a 100% KEEPER that I'll come back to often.
Heat oven to 425 degrees. Butter baking sheet.
Mix flours, wheat germ, baking powder, baking soda, and salt in large mixing bowl or food processor. Add butter and cut in with pastry blender or process until butter bits are size of small peas. Mix 1/2 cup buttermilk and the honey, add to flour mixture, and stir or process until blended. (Do not overwork dough or biscuits will be tough.) Mix in more buttermilk, 1 T. at a time, until dough comes together and is just slightly sticky.
Flour sheet of waxed paper, place dough on paper, and flour top. Gently pat dough into 3/4-inch circle (about 6 inches in diameter). Flour sharp knife and cut dough into 6 even wedges. Arrange wedges at least 1/2-inch apart on prepared baking sheet. Brush tops lightly with beaten egg.
Bake biscuits until golden brown, about 15 minutes. Split biscuits horizontally while still hot. Serve with Tomato Cheddar Rarebit.