Whole Wheat Banana Butterscotch Muffins
Calee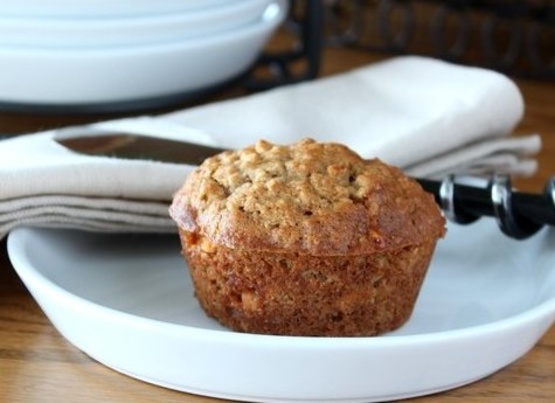 My family loves these banana muffins which are made healthier with the additon of whole wheat flour. The butterscotch chips are a wonderful, unexpected surprise. Nuts can be added, if desired.

Top Review by Calee
Awesome muffins, love the texture the oats add to these muffins. Very easy to make. Love the butterscotch chips in these. Mashed 1 1/2 bananas to make 3/4 cup. I got 11 nice sized muffins and they baked up at 400 for 14 minutes. Made for My Three Chefs.09 Thanks for sharing this recipe, its one I will be making again.
Preheat oven to 400F degrees. Grease muffin pans; set aside.
In a large bowl, combine first 8 ingredients (flour through sugar); make a well in the center of mixture. Set aside.
In a medium bowl, combine banana, egg, milk, oil, and extracts. Beat with a wire whisk until well blended. Add to dry ingredients, stirring until just moistened. Fold in butterscotch chips.
Spoon batter into greased muffin cups, filling each cup 3/4 full. Bake for 13 to 15 minutes, or until a wooden pick inserted in center of muffin comes out clean. Remove muffins from pans immediately and cool on a wire rack.