Nif_H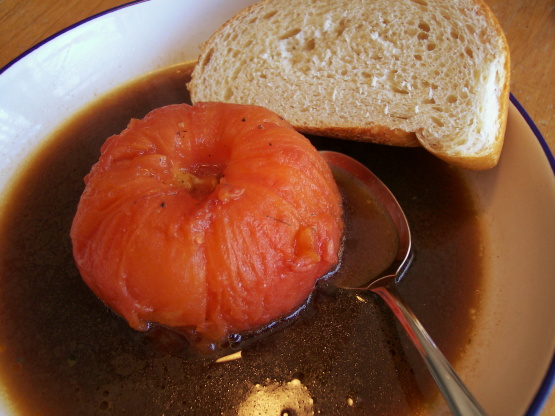 This unusual soup makes a great light lunch, or a starter for a nice dinner. From the Junior League of Charleston, West Virginia.

Top Review by ImPat
I made this for the DM's lunch and she really enjoyed it though I did omit the cayenne and my celery did not have leaves so used some cilantro leaves (which gave a litte anisede flavour which complimented the tomato - well from my taste test it did). To peel the tomato I slit it with a cross on the bottom and plunged it into hot boiling water for about 15 seconds (depending on the size of your tomato this could be 10 to 20 seconds) and it peeled so easy but only allowed 20 minutes cooking time in the broth (home made no salt and did not add salt due to the DM's diet requirements) taking into consideration the size of the tomato. The DM enjoyed with some crusty bread and I was happy. Thank you loof, made for ZAAR Cookbook Tag Gam,e.
Peel the tomato. Cut the celery into 1" pieces.
Combine the bouillon cubes and water until dissolved.
Melt the butter in a small saucepan. Add the whole tomato, bouillon, and celery. Sprinkle with salt, pepper, cayenne and basil to taste.
Cover and simmer 30 minutes.
Remove celery. Serve tomato in broth in a large soup plate.