Whole Spice Basmati Pilaf
kolibri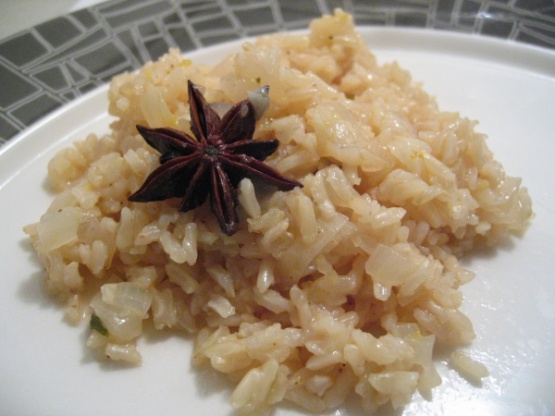 This is an easy pilaf which is simply left to cook in the oven. The whole spices can be removed before serving if you like. A round cast-iron casserole is the ideal cooking pot; a roasting tin is not suitable. Fragrant and delicious, it makes a great accompaniment to any meat.

This is a very tasty rice dish. I made this using Maggi Vegetable stock with onions as a substitute for chicken stock. Also, I substituted butter with Pure Wesson Canola oil. I did not use any star anise since I did not have that on hand. I prepared this rice on the stovetop. It was wonderful to dig into this! Thank you for sharing:-)
Rinse the rice.
Preheat oven to 180°C.
Make a cartouch to fit a medium round casserole dish; cut a circle of greaseproof paper, slightly larger than the dish, and snip a tiny hole in the centre to make a steam vent.
Melt two thirds of the butter in the flameproof casserole dish and saute the onion for about 5 minutes, until softened.
Add the rice and stir well, then add the herbs, whole spices and lemon or orange zest.
Cook for a minute or two.
Bring the stock to a boil, using the larger volume if you prefer a more tender grain.
Mix the stock into the rice along with the salt and pepper to taste.
Press on the cartouche, turning the edges up and pressing them to the side of the pan for a neat fit.
Make sure the vent is visible.
There is no need to cover with a lid.
Bake in the oven for about 25 minutes.
Remove from the oven, allow to stand for 5 minutes, and then remove the cartouch.
Fork through the remaining butter until the rice grains are fluffy and separate, removing the whole spices before serving if you prefer.