Whole Oven-Barbecued Chicken
twissis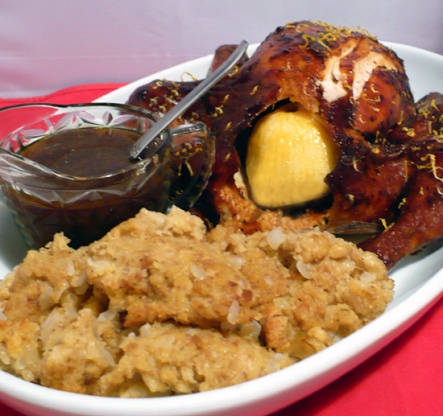 This recipe is from Kraft. Very easy and delicious meal. The recipe calls for a packaged stuffing mix; however, you may use Stuffing Seasoning Mix and make your own.

We liked this chicken a lot. The prep does not say whether to use the Italian seasoning in the BBQ sauce or on the skin of the chicken. I opted to mix it w/a bit of lemon pepper + olive oil & use my pastry brush to brush it over the skin after I had rubbed it w/the lemon halves. It was moist, flavorful & perfectly done in the stated time. I deglazed the pan w/a sml amt of water & served all as suggested using Pepperidge Farm Cornbread Stuffing Mix. The parts are all excellent, but the whole did not seem compatible. There was no real use for the thin & BBQ flavored sauce & the stuffing was almost odd w/a BBQ chicken. I kept thinking of things more typical of BBQ flavors like French fries, cole slaw & potato salad. BUT that did not keep me from enjoying a 2nd tasty helping. Thx for sharing this recipe w/us. :-)
Preheat oven to 350 degrees.
Add lemon juice and 1/2 teaspoon zest to barbecue sauce; mix well.
Place chicken in baking pan, place 2 of the lemon halves and garlic cloves inside the cavity of the chicken, rub the outside of the chicken with remaining lemon halves and discard; tie the legs together using kitchen twine.
Bake for 1 hour 45 minutes or until chicken is cooked through. The internal temperature should be 165 degrees F, basting with the sauce mixture every 5 minutes during the last 20 minutes of baking.
Sprinkle with reserved lemon peel during the last 5 minutes.
Prepare the stuffing mix as directed on package, place stuffing in oven during last 30 minutes of chicken baking time.
Remove and discard lemon halves and garlic cloves from chicken cavity; skim fat from drippings in baking pan; serve drippings with chicken and stuffing.