Hey Jude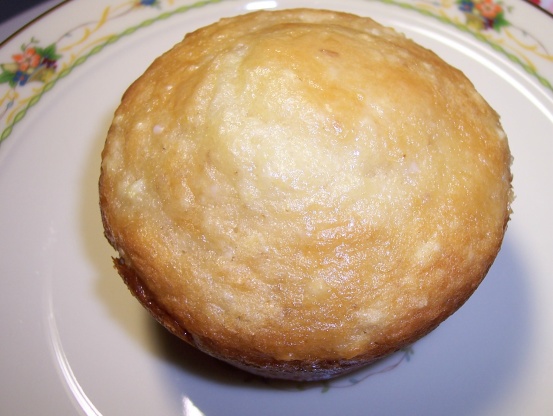 These muffins are fantastic. An entire ground lemon goes into the mix, giving these muffins a deep lemon flavour. A generous helping of plain yoghurt combines with the lemon to create a muffin that is both tangy and sweet, and according to all those who have sampled them, entirely irresistable.

I have read this sort of recipe, where a whole orange or lemon is mixed into the batter, with interest for a number of years. I have always thought, "Sure, that probably works for some people, but it wouldn't work for me." Well, I finally decided to try, since I had a lonely organic lemon in the fridge. The recipe itself is very detailed, but that is helpful. Even an experienced baker like me sometimes suffers from lack of confidence. But, with the recipe's help, I was able to make beautiful, delicious muffins. I did make a couple of changes - I omitted the vanilla, and also the glaze. They are glorious, lemony muffins. Thank you very much for posting this.
Preheat the oven to 350°F Grease 12 texas size muffin cups with butter or cooking spray or line with paper muffin wrappers.
Wash and dry the lemon. Cut into quarters and remove the seeds. Process the quartered lemon (all of it!) in a food processor fitted with a metal blade for 1 minute or more, until it is completely ground up. Scrape the lemon into a bowl. Without washing the food processor add the walnuts and pulse 10 to 12 times. Add the walnuts to the processed lemon. Stire to combine and set aside for later use.
Using a mixer fitted with a paddle attachment, cream the butter in a large bowl on medium high speed for 1 minute. Scrape down the sides of the bowl. Add the sugar and beat on medium high until light and fluffy. Add the eggs all at once and beat on medium speed for 1 minute. Add the vanilla and beat for about 30 seconds. Mix together the dry ingredients. Beat one third of it into the creamed mixture just until incorporated. Add half the yoghurt and do the same. Repeat, ending with dry ingredients. Gently stir in the lemon mixture.
Spoon batter into prepared muffin tins. Bake for 30 to 35 minutes until they are slightly browned and a toothpick inserted in the center comes out clean. Let cool in the pans for 5 minutes, then remove to a wire rack.
combine glaze ingredients and drizzle over the warm muffins. Glaze will harden in about 15 minutes.
These are at their very best served warm, but if wrapped tightly in plastic wrap once cooled, they will still taste great for up to 3 days. They can be frozen for up to 3 weeks.