ladypit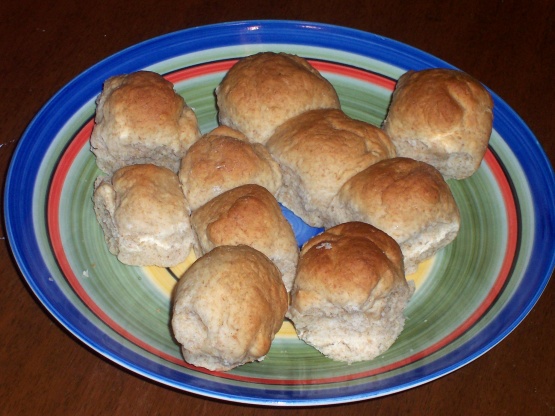 These are real tasty and also healthy! Prep time includes rising time.

I made these to serve with Charlotte J's Beef Lentil Soup recipe #12596 and they went really well together. These were quick and easy to make, in fact, I didn't begin mix them up until I had the soup coming to a boil to be reduced to simmer for an hour. Once the soup was done, I covered it and allowed to cool enough to serve while these baked for their required 20 minutes. Timing was perfect! Thank you for sharing a really nutritious roll recipe, as well a delightfully flavored and textured Sharon!!! I will certainly be making these again!
Combine water, honey, and butter in a small saucepan; heat until butter melts.
Cool to 120°F (really warm but not too hot).
Combine wheat flour, oats, yeast, and salt in a large mixing bowl; stir well.
Gradually add hot liquid mixture, beating at low speed of an electric mixer 1 minute.
Add egg,and beat an additional 2 minutes at medium speed.
Gradually add flour to make a soft dough.
Turn dough out onto a heavily floured surface, and knead until smooth and elastic (about 8 minutes).
Shape dough into 24 balls; place in a lightly greased 13x9x2-inch pan.
Cover and let rise in a warm place (85°F), free from drafts, 1 hour or until doubled in bulk.
Bake at 375°F for 20 minutes or until lightly browned.