Whole Grain Irish Soda Bread
COOKGIRl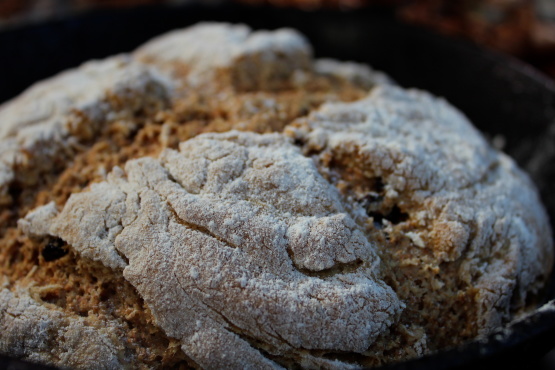 This super easy and quick to make soda bread tastes lovely and is the perfect accompaniement to soup or stew or some hearty cheese. I like that there is neither sugar nor fat in this recipe and it still comes out moist and yummy.

This was very easy to make. I couldn't stop myself from adding two tablespoons of
currants and 3/4 teaspoon of lightly crushed caraway seeds. The bread was cooked in
a pre-heated cast iron skillet. Tried freshly milled whole wheat. Served with butter and homemade jam for Elevenses. ~Tasty Dish~ approved, too. Made for Veg Tag/October.
In a big bowl combine flour, baking soda and salt. Make a well in the center.
Add buttermilk and stir to combine. Knead into a smooth, shaggy dough. If the dough is too wet, add more flour, if it is too dry, add a tad more buttermilk.
On a lightly floured surface roll into a ball. Place on a paper-lined baking sheet and slightly pat down.
Make a cross on top using a sharp knife. Sprinkle some flour on top.
Bake in the preheated oven at 200°C/400°F for about 25 minutes checking in near the end to prevent overbrowning. If a toothpick inserted in the centre comes out clean, it is ready. Alternatively you can tap it on the bottom and if it sounds hollow, it is ready.
Remove to a wire rack to cool completely.
This is best eaten the day it is made, but will keep wrapped in a clean tea towel for a few days.