Whole-Grain Honeyed Waffles
AmyZoe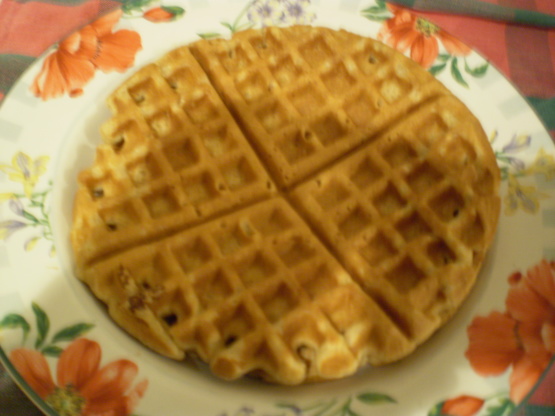 Don't dismiss this recipe as healthy but tasteless because this is probably the best waffle recipe I've tried in a very long time. The texture is not grainy but just right and the flavor of honey and oats make it more like dessert than breakfast. I used oatmeal and threw in some flax seed because I didn't have wheat germ. I also used a local Idaho honey and diluted some whipping cream (maybe that was the secret) and added a splash of vinegar to the diluted milk to make buttermilk. I'll definitely be making these again, and I think I'll throw some fresh fruit on top. This recipe came from Family Circle All-Time Favorite Recipes.

Top Review by Bobbin
At first these tasty waffles were sticking to my waffle maker even though it is nonstick and I was spraying with olive oil. About halfway through, the problem resolved itself. These were very good and I like the nutrition in them. I used all whole wheat flour and skim milk in place of the buttermilk. I also used applesauce in place of the melted butter to bring down the fat and calorie count. My children ate them up and for that reason I will be making them again! Next time I think some mashed banana or some apple and cinnamon would be great additions. Thanks for the recipe!
Heat waffle iron. Heat oven to 225.
Mix cereal and wheat germ in a large bowl.
Beat butter, eggs, and honey in a second bowl.
Add to cereal.
Mix flours, baking soda, and salt in a third bowl.
Add flour mixture alternately with buttermlk to cereal, stirring. Batter will be very stiff.
Make a total of 6 waffles in waffle maker according to manufacturer's directions.
Stack between sheets of waxed paper on baking sheet and keep warm in heated 225 oven.
Serve waffles with butter and syrup.