Rita1652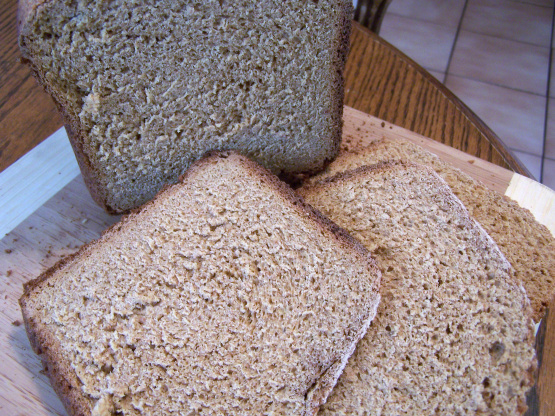 After lots of experimenting I came up with a hearty whole grain bread recipe that works in my bread machine. I wanted something that is very nourishing and tasty, easy to make, rises well, and works for sandwiches or just plain or toasted. My one complaint is my machine has a vertical pan, which is annoying; but this bread goes up nice and high and bakes well in the oven too. Adjust the sweetness to your taste. The sweeter version makes really good toast! For the oats you can use rolled, minute, or instant; I use rolled because it's not precooked and has more nutrients.

I LOVE this bread! Like one other reviewer this was just what I was looking for. I also used 8 T sugar and used 1/2 c oats and 1/2 c flax... I was trying to reproduce another bread I liked. It has been perfectly balanced every time whether I used gluten or not. I've just started back using my machine and learning the right consistency of the dough ball. We served it thanksgiving to rave reviews by all!
Put 4 oz (1/2C) water in bread pan. Add powdered milk and let it sink down into the water. Mix eggs with remaining water to total 6 oz, so that there is 10 oz (4 oz+6 oz) (1.25C) total of water and egg. Add other ingredients in order given and start the machine; powdered or fresh milk cycle makes no difference, at least with my machine.
I use WW bread flour if I can find it and eliminate the gluten; the website didn't allow WW bread flour as an ingredient.
And sometimes I use heavier flours such as rye and spelt, substituting up to one cup of the WW flour with them. With those flours and with regular WW flour I add 1T gluten to help the loaf rise.