Whole Foods Spinach and Artichoke Dip
mleebuss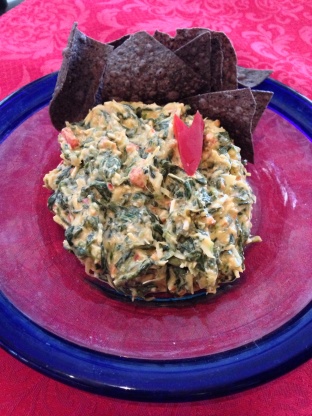 I found this recipe online somewhere. It's supposed to be a copy of the cold, Whole Foods Spinach and Artichoke Dip that they sell for $10/tub. I think it's pretty close, but not exactly like it tastes from the store. In any event, this is an easy, quick, and far cheaper way to make a very good spinach and artichoke dip. You'll love this.

This is a really great low-fat dip and tastes so fresh and light. I made it exactly as stated, but skipped the jalapenos because I thought it may be too spicy. I will experiment with that in the future as I'm sure I will make this often. Thanks for posting!
Add drained spinach, drained artichoke hearts, drained fire roasted red peppers, jalapeños, and green onions to a food processor and chop until desired texture. If you like your dips chunky, you can skip the processor and chop by hand.
In a large bowl, mix all ingredients together thoroughly.
How easy is that? Now, season with salt and pepper to desired taste and refregerate for at least an hour before serving.
Note: Feel free to play with the ingredient quantities. I like more spice, so I typically use 4 jalapeños. Adding more red peppers adds more color and flavor as well.