Whole Baked Cauliflower With Tomato and Olive Sauce
Irmgard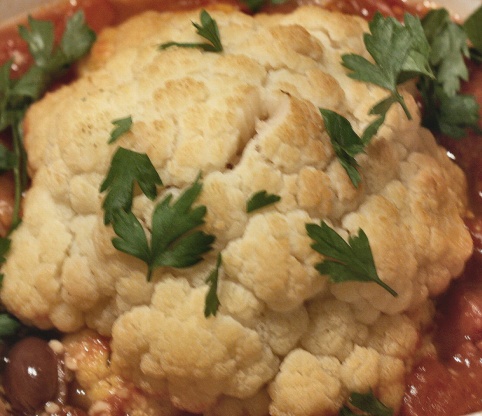 This is a Jamie Oliver recipe but since he is rather imprecise with measurements, I have put in the measurements I used. This is great as part of a Mediterranean menu.
Heat the oil in a pot large enough to hold an entire head of cauliflower, leaving an inch around it.
Add the onion, garlic, and chopped cauliflower stalk and slowly fry for 10 minutes until softened and with a little colour.
Add the olives, anchovies (if using) and parsley stalks and fry for another 2 minutes.
Add the tomatoes along with a cup of water and the vinegar.
Stir everything together and bring to a boil.
Take the cauliflower and gently push it down into the sauce. The cauliflower should be partially submerged.
Drizzle with a bit more olive oil, cover and let cook over low heat for 50 minutes.
Garnish with the parsley leaves.