Whittle Your Waist-Line With a Fluffy Omelet
Derf2440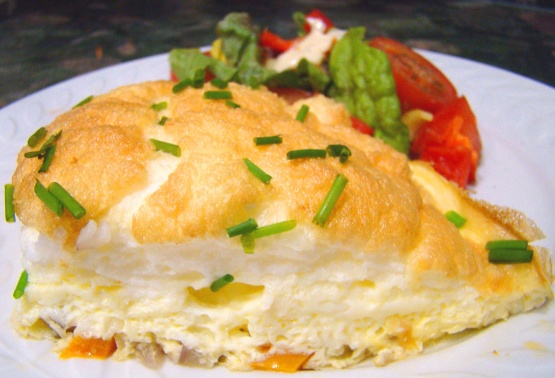 Tastes like a breakfast souffle. The secret for making this fluffy is to separate the eggs. Add other veggies, if you desire. How much of the onion, pepper and chives is your choice. I use a cast iron skillet, so that it can go straight into the oven from range top.

Wonderful light fluffy omelet!! I used orange sweet pepper and red onion cus that's what I had on hand. We couldn't believe how high it rose, wonderful, light and delicious!! The chives were a lovely finish. I will be making this again and often, thanks Caroline for real keeper!!
Preheat oven to 350°F.
In mixing bowl, combine the egg yolks and cottage cheese until well-blended.
Add Salt and pepper.
In separate bowl, whisk or, using a hand mixer, beat egg whites until very fluffy, but not dry.
On medium, heat a small (6") cast iron skillet and spray with butter spray.
Saute pepper and onion until softened.
Meanwhile, fold egg yolk mixture into egg whites.
Immediately pour into skillet and cooks for about 2 minutes.
Place in preheated oven and bake until puffy.
Sprinkle with chopped chives to serve.
Cut into wedges.