Debi9400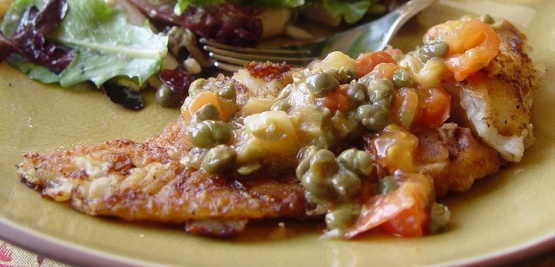 This recipe is adapted from a cookbook entitled Best Recipes of Michigan Inns and Restaurants by Margaret E. Guthrie. This is a menu item served at Arie's Cafe in Plainwell, Michigan. If you ever find yourself in Southwest Michigan, do yourself a favor and have a meal at Arie's Cafe. It's worth going out of your way to find. My sister had her wedding rehearsal dinner there and it holds special memories for me. I hope you enjoy this dish as much as I do . . .
2

(6 -8 ounce) white fish fillets

1

cup milk

1

cup flour
1⁄2 teaspoon salt
1⁄2 teaspoon pepper
1⁄4 teaspoon granulated garlic

1

ounce clarified butter

Grenoble Sauce

1⁄2 cup diced lemon
1⁄4 cup diced fresh tomato (avoid using canned)
1⁄4 cup capers

1

ounce fresh butter
Mix the salt, pepper, and garlic with the flour in a plate or pie plate. Pour milk into a separate pie plate and dip the fillets in milk, then dredge in the seasoned flour.
Heat saute pan over medium heat. When hot, add 1 ounce clarified butter. Place fillets in pan, skin side down (**I always use skinless fish). Cook until golden brown, turn over and cook until done.
Remove fillets onto a plate. While pan is still hot, wipe the pan out with a clean damp rag or paper towels. Place back on the stove. Add fresh butter; when it starts to brown add the Grenoble sauce and saute until heated, approximately 1-2 minutes. Pour the warmed Grenoble sauce over the fillets** and serve.
**After reading the first review of this recipe I wanted to add a final note. The cookbook says to serve only 1 tablespoon of the Grenoble sauce over each fillet. That may help in making the dish more balanced, as opposed to using all of the sauce.