White Wine Shallots Sauce With Lemon and Capers
diner524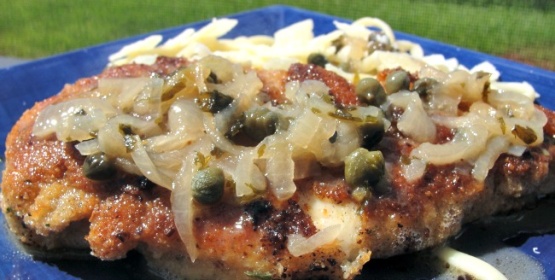 I got this recipe from Holiday Market, which is near the house and we tried it on some white fish. DH and I thought it had a nice flavor.
My 21 yo DS was coming over for dinner, so I made this to go over our recipe#395542. I made the sauce as written except that I just sliced the shallots, then was able to strain the sauce over DS's chicken but had mine with the works, yummy. Thanks for sharing a very tasty sauce!! Made for Rookie Recipe Tag Game.
Heat oil in medium saucepan over medium heat until shimmering, but not smoking.
Add the shallots and cook, stirring frequently, until softened and beginning to color, about 1 1/2 minutes.
Add wine and lemon juice, increase heat to high, and bring to a boil.
Boil until reduced to 3/4 cup, 3-5 minutes.
Remove saucepan from burner. Whisk in butter, capers, and parsley. Season with salt and pepper to taste.
To serve, stir sauce to recombine, and spoon over your cooked fish.