White Wine Grilled Salmon
loof751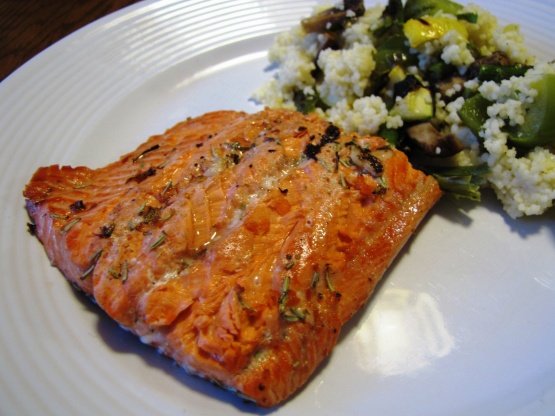 A delicious white wine garlic marinade gives this salmon amazing flavor, and keeps it nice and moist when grilled on the BBQ. A definite favorite at our house, and our guests always ask for the recipe!

Very nice. I truly felt this was delicate and aromatic. However, I did not grill it, I broiled it using the same directions you posted and it was wonderful. I know it will be better grilled but for those of you who can't grill, just know it was wonderful. I served it with wild rice and a Clos Du Bois Pinot Grigio that was spectacular( I used it in the recipe too). I wish I would have had some french bread. Try it, you'll be impressed as well!
Pour white wine into a non-metallic dish and add remaining ingredients.
Marinate fish for at least one hour, turning occasionally.
Grill on BBQ flesh side down for 5-6 mins, flip and finish cooking with skin side down, 5-6 mins or until fish flakes. Do not overcook or it will be dry!