My hero Jacques Pepin does something like this. The ingredients and amounts can be played around with very freely. Use whatever kind of cheese you like. (I normally throw in whatever leftover odd bits are in the fridge,,, the more variety , the better.)
Directions
Peel and quarter garlic cloves.
Combine all ingredients in bowl of food processor.
Process until smooth and creamy.
Most Helpful
This spread has a lot of strong flavors, which actually worked well together. I used 4 oz. of sharp cheddar and 4 oz. of blue cheese, as well as 2 garlic cloves, 4 T. of white wine and 6 drops of Frank's Red Hot sauce. Surprisingly, the heat did not really come through. The predominant flavors were the blue cheese and the garlic. If you are not a fan of blue cheese, I suppose you could substitute some crumbled goat cheese. All in all, this was a very tasty spread that can be easily adjusted to suit any taste. Made for Fall PAC 2012.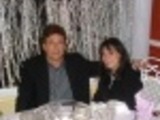 Fantastic! This is the recipe to remember when friends are coming over. Simple, goes together in no time, incredible on crackers, and perfect served with wine or other drinks. Followed the recipe as stated, using a medium cheddar. Will definitely keep in mind for those odds and ends of cheese, too. Thanks for sharing the recipe! Made for PAC Fall 2008.