jrusk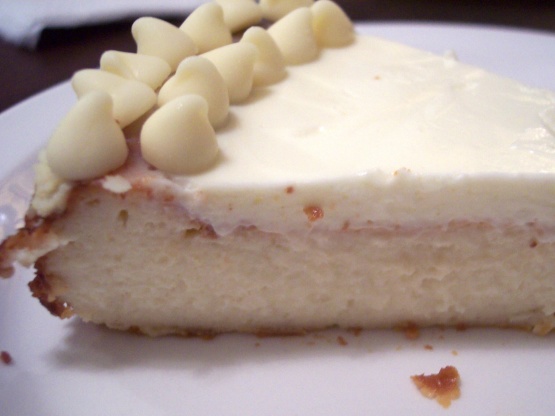 Luscious, beautiful to look at. Not hard to make. Prep time does not include chilling time

Top Review by jrusk
This was amazing!! I only bake a couple times a year so I like to make it fabulous when I do. I choose the cheesecake for him and the white chocolate for me :) I'm not a big fan of crust or fruit so this was perfect, decadent, and delicious. This made a wonderful b-day cake and it would be SUPER for a dinner party. Thanks Connie!
Cheesecake:.
Beat cream cheese, Sugar, lemon juice until blended and smooth.
Add remaining ingredients. Mix well.
Pour batter into lightly greased 8 1/2 " springform pan.
Smooth top.
Bake at 450F for 10 minutes.
Reduce heat to 325F and bake 30 -35 minutes longer.
Topping:.
Combine sour cream and sugar.
Spread over cheesecake .
Bake 5 minutes longer.
Run sharp knife around sides.
Let cool before removing sides.
Refrigerate at least 5 hours.
Garnish with curls and fresh fruit if desired.