LizAnn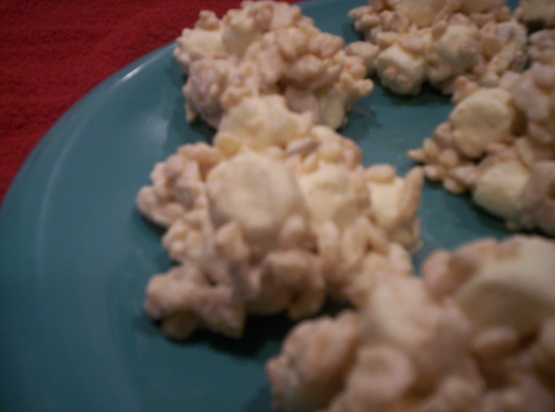 Just in time for the holidays, or anytime. I'm not sure you can get the white star chocolate candy anymore, but I use the white chocolate bark they sell in the 1 pound blocks with equal success. (16 oz.) You will then need to up the amount of other ingredients used accordingly. Not sure on the serving amount.

This is a really awesome recipe!!! Made these last year, too! These are my favorite cookies! When it says to melt the peanut butter and white chocolate morsels, it's best to do it on low heat to keep it from burning and getting dry. It'd be nice to know a 'round about time for cooling as I can't stick them out in the garage due to field mice and needing the space in my fridge for other things.
Melt the white star candy and peanut butter together.
Add all other ingredients and mix together.
Drop by spoonfuls onto wax paper.
Refrigerate until hardened.