HeidiSue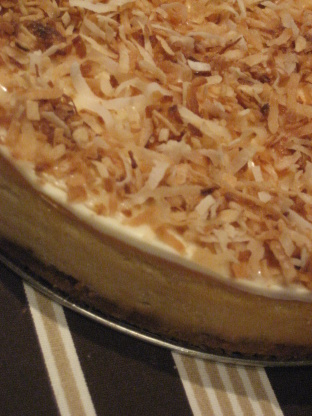 This was a great hit the couple of times I served it. Other liqueurs could be substituted for Kahlua, though I guess then you'd have to change the name of the recipe. If desired, you can reduce the fat content a little by using low-fat vanilla wafers, replacing half the light cream cheese with nonfat, and using 1/4 cup fat-free egg substitute in place of 1 of the eggs.

I love cheesecake and I love White Russians, so after reading the first few 5-star reviews for this cheesecake, I'll admit I was expecting great things. Unfortunately, this cheesecake just didn't deliver for me. I could not really taste the "White Russian" flavor, and the coconut just didn't seem to fit the flavor profile. Plus, it didn't quite taste sweet enough. In general, it was rather bland to me; I didn't even want to finish my slice, and I don't usually let cheesecake go to waste. Too bad - I really wanted to like this.
In a skillet over low heat, combine the butter, milk and 3 Tbs sugar and stir until the butter is melted and the sugar is dissolved.
Add the 2 Tbs Kahlúa and continue to heat, stirring constantly, 2 minutes.
Pulse the cookies and nuts together in a blender or food processor to make crumbs.
Add the butter mixture and pulse briefly to blend with the crumbs.
Press the butter and crumb mixture evenly into a 9-inch springform pan.
Beat the cream cheese until smooth.
Beat in the 3/4 cup sugar, the salt and the vanilla.
Add eggs, one at a time, beating well after each.
Stir in the 1/4 cup Kahlúa and the vodka.
Pour into the crust, set the pan on a baking sheet and bake at 350°F 45 minutes.
Cool 5 minutes.
Spread the sour cream over the cheesecake, and sprinkle the coconut on top.
Chill in the refrigerator.