White Pizza With Caramelized Onion and Chicken
Bergy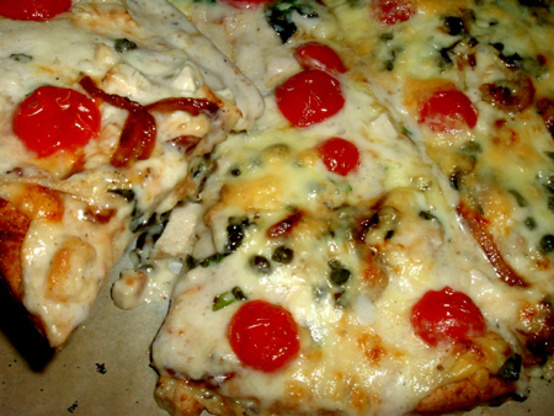 This is a garlicky pizza that includes a white sauce. If you don't want to make your own sauce you can substitute with a little pesto sauce.You can also substitute pita bread in place of the pizza crust.
Caramelized onions: Melt butter with olive oil in pan over medium heat. Add sliced onions and brown sugar and cook for 8 minutes, stirring occasionally. Remove from heat.
Sauce: Meanwhile, place milk, cornstarch, garlic, garlic salt, onion powder, oregano, salt, pepper, and nutmeg in a medium saucepan. Bring to a boil and continue to cook for 2 minutes. Reduce heat and simmer until sauce thickens, about 3-4 minutes longer. Remove from heat.
Pizza: Spread prepared dough with white sauce. Sprinkle with garlic and half of mozzarella cheese. Spread on shredded chicken, onions, tomatoes, capers and the rest of the cheese. Add the optional ricotta and pineapple if desired.
Using a pastry brush, brush a thin coating of olive oil around the outer crust and then lightly sprinkle with garlic salt.
Cook in a 450°F oven for 10-15 minutes until cheese is bubbly and crust in browned.
Let set for 5 minutes before cutting and serving.